The Original John's Plaice at Cardewlees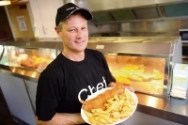 Many would say that a recession is not the best time to launch a new business, but John Hope thinks the opposite is true. He has just opened up a new fish and chip restaurant.
There's no history of a chippy on the site, it's a good walk from the nearest houses and it's on one of the region's busiest roads. But John couldn't resist the challenge.
"I think a recession is when you should open a business – if you can make a success of it when it is bad, you will do all right. Most people I know thought I was an idiot taking something on in the middle of nowhere, with no houses nearby, a fast road and a rural location.
But we drove past this every day when we worked in Carlisle and I just thought of all the passing trade. I wanted to open a chip shop in a new situation, not take over an existing business. There is no chip shop in Dalston or Thursby and I just thought it had a lot of potential."
Perhaps most importantly, he has his name to trade on.
Despite a seven-year break from running a fish and chip shop, former customers still remember the quality of his food from when he ran a business in Moss Bay, Workington and then at Silloth. Hence the name: The Original John's Plaice – so his old customers know it really is him.
"I missed the buzz of it," admits John who still lives in Silloth. "I've missed working the nights and weekends – I've walked miles along the prom at Silloth in the evenings because I've not had anything to do.
"It's hard and hot work, we've spent a fortune fitting this place out and we're working long hours, but I'm enjoying it and it has gone better than I expected. Tea-time, from 4.30pm to 7pm is our busiest time, but we are getting quite a few people in for breakfast as well. And we're getting people in who see the sign and say 'oh, it is really you' which is good."
The building has a mixed heritage, before being restyled as the Original John's Plaice it was a saddlery and tack shop for horsey-types and before that it was a Little Chef. It's fair to say that the food has improved since then!