Carlisle's £178 million bypass plans put on show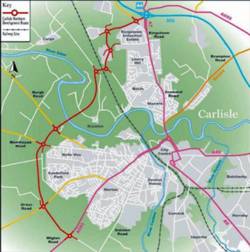 Plans for how the long-awaited Carlisle western bypass will take shape have been unveiled for the first time.

Last week a contract was signed between construction firm Balfour Beatty and Cumbria County Council, with work due to begin on October 19.
Yesterday councillors and the press were given a first glimpse of how the £178million scheme would take shape, and the difficulties that would have to be overcome to finally make it a reality.
Marie Fallon, the council's corporate director of environment, said: "This scheme is our top priority in terms of providing improved access into Carlisle and enhancing opportunities for economic development in Cumbria.
"At the moment we have got lorries as well as cars trying to get through the historic centre of Carlisle. This will provide good access around the northern part of Carlisle and to west Cumbria where we need access. If you look at Cumbria's performance during the economic downturn, we are not as bad as elsewhere, but we have got to ensure growth over the coming years, as it was quite slow prior to the downturn.
"Good infrastructure enables us to put in good growth in the future."
Preparatory work is already underway, including on Kingmoor Rail Bridge which crosses the West Coast Mainline. Construction will start on the northern section of the road itself, known as the Carlisle Northern Development Route (CNDR), in October. The whole CNDR will be open April 2012, and complete by 2013.
Concerns were expressed at the briefing about how the road will sit alongside other transport maintenance costs for the council.Because the council has entered into a 30-year private contract with Connect CNDR – a company set up by Balfour Beatty for the ongoing maintenance of the road – it is unable to alter its contract without first agreeing the change with the contractors.
If the council was looking to make budget cuts in its roads department, it would not be able to incorporate either the CNDR, or a further 92 miles of highway on the A7, A594, A595, A596, A689 and A6071, in those cuts without the agreement of Connect CNDR.
The bypass will begin the process of reinvigorating the Cumbrian economy through the employment it will bring. At its peak, construction of the road will employ around 180 people. And when it is complete, around 20 people will continue to monitor its upkeep.
The road will include two bridges in its design, including a new bridge over the River Eden, which Connect CNDR director Andy Beauchamp described as "striking", and a replacement rail bridge at Kingmoor Rail Park.
This will demand the closure of the West Coast Mainline for a 55-hour period, which the council has organised over the Christmas period.
Environmental issues such as bats and otters living on the route of the road have been addressed, and a cycleway will be built alongside the route.