Carigiet Cowen acted for Cumbria Partnership NHS Foundation Trust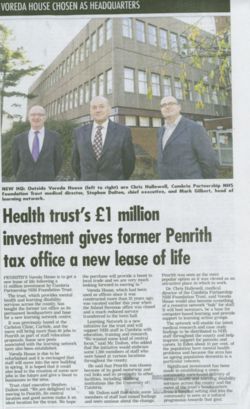 PENRITH'S Voreda House is to get a new lease of life following aŁ1 million investment by Cumbria Partnership NHS Foundation Trust.

The trust, which provides mental health and learning disability services across the county, has bought the former tax office as its permanent headquarters and base for a new learning network centre.

It was previously based at the Carleton Clinic, Carlisle, and the move will bring more than 60 jobs to Penrith as part of staff relocation proposals. Some new posts associated with the learning network have also been established.

Voreda House is due to be refurbished and it is envisaged that staff will move into the new building in spring. It is hoped that it could also lead to the creation of some new jobs in the future and give a boost to businesses in the area.

Trust chief executive Stephen Dalton said: "We are delighted to be moving to Penrith. Its central location and good access make it an ideal location for the trust. We hope the purchase will provide a boost to local trade and we are very much looking forward to moving in."

Voreda House, which had been used as offices since it was constructed more than 35 years ago, was vacated earlier this year when the Inland Revenue office was closed and a much reduced service transferred to the town hall.

Learning Network is a new initiative for the trust and will support NHS staff in Cumbria with education, training and research. "We wanted some kind of central focus," said Mr. Dalton, who added that the initiative would embrace some 1,500 members of staff who were based at various locations throughout the county.

He said that Penrith was chosen because of its good motorway and rail links and its proximity to other facilities, including learninginstitutions like the University of Cumbria.

Mr. Dalton said that while some members of staff had mixed feelings and were anxious about the change, Penrith was seen as the most popular option as it was viewed as an attractive place in which to work.

Dr. Chris Hallewell, medical director of the Cumbria Partnership NHS Foundation Trust, said Voreda House would also become something of a resource network "hub" for staff. It will host seminars, be a base for computer-based learning and provide support to learning action groups.

The network will enable the latest medical research and case study findings to be distributed to NHS staff throughout the county and help improve support for patients and carers. In Eden about 10 per cent. of the population have mental health problems and because the area has an ageing population dementia is a particular concern.

Significant investment has been made in establishing a more community care-based delivery of mental health and learning disability services across the county and the move of the trust's headquarters from a hospital setting and into the community is seen as a natural progression towards that goal.