New Premises for Wilkinson Cameras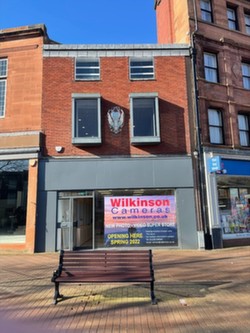 Acting on behalf of the landlord, Carigiet Cowen are delighted to have been involved in the letting of 14-16 English Street to Wilkinson Cameras on a new lease, who see themselves reloacting from The Lanes.

This transaction demonstrates national and strong regional retailers wishing to still have a presence on our High Street. At present, Carigiet Cowen currently have very strong interest in other prime retail units along English Street on our books from national operators.

In an interview with the News & Star, store manager Joe Lawson said: "The new shop will allow us more space to display the latest technology." On the large ground floor we will offer a wide range of instant printing options. We will also have a second floor which will allow us a studio space and a training facility."

For further information on retail opportunities just like this in Carlisle and around Cumbria, please do not hesitate to explore our available properties within this website www.carigietcowen.co.uk or contact our office on 01228 544733.