SUMMER SIZZLING DEALS SEES INCREASED TAKE UP IN RETAIL AND LEISURE SECTORS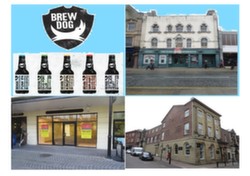 Retail surveyor, Ben Blain has secured one of Carlisle's most exciting leisure lettings for the last decade in the city by concluding a deal to Brewdog who will shortly start fitting out 36-38 Botchergate.

The Scottish Craft Beer Company were founded in 2007 when two friends started their own micro-brewery business before opening their first bar in Aberdeen from 2010. Today, the company trades from approximately 50 bars worldwide and has a presence throughout major UK cities, Barcelona, Sao Paulo, Helsinki plus many more. Carlisle joins Brisbane and Reykjavik on the shortlist of new openings!
Ben commented "New lettings are always exciting for your own home town, especially when a big name such as Brewdog come along. Botchergate already benefits from multi big names on the leisure circuit including; JD Wetherspoon, Walkabout and Vue Cinema, so slotting Brewdog in to the former amusements opposite English Gate Plaza will set well. I have experienced other Brewdog bars in Newcastle and Glasgow and if the fit out of these bars is replicated on Botchergate, then the building will have a modern image and exciting feel about it."
The company are intending to be open well in time for Christmas.

Elsewhere in the city centre, Ben has let Unit 4 Carlyle's Court (former Turnbull's) to Moduals who are opening their second store selling menswear items and a wide range of adidas trainers. The company currently trade from Dumfries and felt that an additional store here in Carlisle was an opportunity to be taken.
Sticking with Carlyle's Court, following a recent change of use from offices to fitness studio, Office Suite 3 has been let to Fairy Bod Mother. The company was established in 2010 by Kim Harkness and will shortly be opening offering a variety of fitness sessions including; spinning, interval training and a mother & baby class.