FUTURE OF FORMER YHA COCKERMOUTH LINED UP FOR REDEVELOPMENT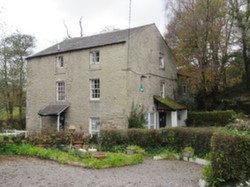 Acting for Cockermouth Town Council, Chartered Surveyor Ben Blain of Carigiet Cowen has sold the former YHA Cockermouth, currently known as Double Mills. The landmark building set in a highly desirable location off Fern Bank and next to the River Cocker has been marketed with the Carlisle based firm since late 2016.

The history of the building in recent years includes flooding during the 2015 and 2009 floods but going even further back the Grade II Listed building was utilised as a former mill and some of the historic features including the water wheel on the outside of the building can still be seen today.

Carigiet Cowen understand the new owners will redevelop the building to provide some residential and further hostel living accommodation for walkers and people visiting the area. It is also understood that the unique features will be preserved.

On the sale of the historic building Ben commented: "We are delighted that following a prolonged marketing period and working closely with Cockermouth Town Council the building will be fully brought back in to use. Although we aren't certain of a build date, the property is rumoured to have been built several hundred years ago and the last occupiers, Youth Hostel Association had been in occupation since around World War II. There is a huge amount of potential for a site like this in one of Cumbria's popular market towns due to the surrounding green space and River Cocker right on the door step".

For further information on our available properties or to discuss selling any of your assets with Carigiet Cowen, do not hesitate to get in touch with Ben Blain or Richard Percival on 01228 544733.