SUBSTANTIAL ULVERSTON TOWN CENTRE OFFICE BUILDING SOLD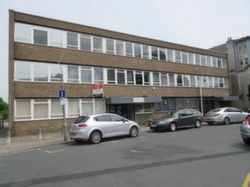 Glynis House, one of Ulverston's largest central office buildings, has been sold by Carigiet Cowen. For many years, the home of Government Departments, including The Inland Revenue Property Division (The District Valuer's) Glynis had been vacant for a number of months.
Situated adjacent to Ulverston's Laurel and Hardy Museum and cinema, at the heart of the town. The building offers approximately 10,000 sq ft of office space over three floors, with onsite parking.
Despite recent disappointing news that the £350M GSK Biopharmaceutical development in the town was not to be taken forward, the sale was agreed following competition from purchasers.
Carigiet Cowen acted jointly in the sale with WHR Property Consultants in Manchester.