CANCER RESEARCH UK OPEN NEW STORE IN WORKINGTON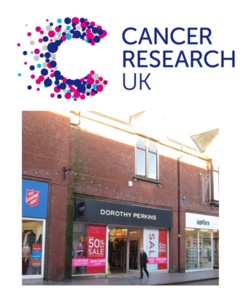 One of the UK's biggest charity organisations has signed up to a new lease on Unit 4, 26-32 Murray Road, Workington. Cancer Research UK, who now operate from approximately 600 stores nationwide, identified the town earlier this year. Acting for the landlord Greenstone Sterling Ltd, Retail Surveyor for Carigiet Cowen, Ben Blain, has negotiated a new 10 year term with the organisation.

The store intends to open later this year and is positioned between Savers Health & Beauty and Salvation Army on Murray Road. CRUK are actively seeking volunteers for this unit and anyone interested should visit their website: www.cancerresearchuk.org for further information.

The latest acquisition of this store is the sixth unit in Cumbria. Other locations include Barrow in Furness, Carlisle, Penrith, Keswick and Ulverston.

For further information on Carigiet Cowen's property services and commercial property availability, please visit our website: www.carigietcowen.co.uk or contact us on 01228 544733.