Bakery Firm Creating Jobs at Kingmoor Park Central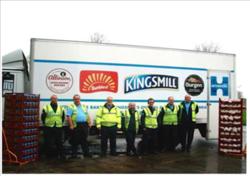 Bakery firm Coultons Bread Ltd, one of the UK's leading distribution bakeries has created 20 new jobs in the Carlisle area following the opening of a new 17,000 sqft distribution centre at Kingmoor Park Central, Carlisle in September 2014.
This will be their 5th site that also includes Liverpool, Manchester, Bradford and Newcastle.
This depot is a strategic partnership between Coultons Bread Ltd and Allied Bakeries
The sight of Kingsmill and Hetherton's Original branded delivery vehicles is now a familiar site across Carlisle and north Cumbria.
Coultons Bread is based in Liverpool. Its owns the Quayside Bakery in Manchester and its brands include Quayside, Happy Bread, Bakestone and Hetherton's Original.
The Carlisle depot services the whole of Cumbria, plus north Lancashire and Dumfries, supplying Coultons' products plus the Allied Bakeries' brands Kingsmill, Sunblest, Allinson and Burgen.
Managing director Howard Hunter said: "We've been delivering on behalf of Allied and last year they won a big contract to supply the Co-op, which was the spur for us to come to Cumbria. They had been serving Cumbria from Glasgow, Newcastle and Stockport, which wasn't ideal."
The company has invested more than £100,000 in the project, recruiting 15 drivers and five night packers who make up the orders for delivery.

RICHARD PERCIVAL, DIRECTOR - CARIGIET COWEN ACTED AS SOLE LETTING AGENT ON BEHALF OF LANDLORD KINGMOOR PARK PROPERTIES LTD IN RESPECT OF THIS LETTING.