Continued Success in the Commercial Property Market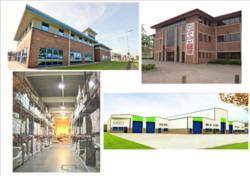 With today being the longest day of the year it is very much hoped that we will all be enjoying some extended hours of sunshine. The improvements to the commercial property market, which we highlighted back in March this year, have continued to break through the general uncertainty that still prevails across the economy as a whole.

Carigiet Cowen were delighted to conclude the sale of Site 68 Kingstown Broadway last month, a substantial 2 storey office building of some 14,700 sq ft with almost 100 car parking spaces to the rear. The new owner, who cannot be named at this moment in time, will be using the property for office purposes and is expected to breathe some life back into what has been an underutilised building for a number of years.

The sale of this building and the 25,000 sq ft Compass House at Park House last year by Carigiet Cowen means that there is now little high quality office space available of a substantial size in the Carlisle area.

On the industrial front, we have continued to witness occupiers committing to lease or purchase space in a range of locations across the county. The letting of 23,000 sq ft of warehouse space at Alliance Business Park, Penrith has completed, together with some 15,000 sq ft of warehouse and office space at Main Line Industrial Estate near J36 of the M6 at Kendal. The letting of a further warehouse unit of 9,000 sq ft at Main Line is due to complete this week to a well known shoe retailer.

Whilst the level of general enquiries remains quite modest, those parties who we are dealing with appear to be serious about taking space if the right terms can be agreed. This has been demonstrated at Brampton's Townfoot Industrial Estate where Geltsdale Brewery has recently completed their relocation, taking 2 no. 3,000 sq ft units for a new brewing facility. Across the road at the larger Centurion Court development, solicitors have recently been instructed on the letting of Unit 1 and negotiations are at an advanced stage to let Units 3, 4 and 5 extending to over 25,000 sq ft to a single occupier.

So, even if the longest day proves to be a little overcast there are some encouraging rays of sunlight breaking through on the commercial property front.

If you require any information about the range of commercial property services offered by Carigiet Cowen or wish to view details of the properties and site they are currently marketing please visit www.carigietcowen.co.uk or call Richard Percival on 01228 635006.