Significant Investment for Carlisle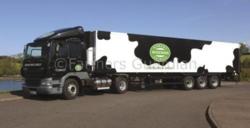 As the third quarter of 2012 draws to end transactions concluded by Carigiet Cowen on Carlisle's Kingstown Industrial Estate, have secured significant investment for the city.
Wiseman Dairies are to expand their long established Kingstown depot by 40%, by taking additional warehouse space, and undertaking significant investment to improve the company's operations.
Chris Smith, Director of Carigiet Cowen comments, "Dialogue has been taking place for some time, and I am delighted negotiations have reached a satisfactory conclusion".
Originally founded in 1947 in East Kilbride, Wiseman now employs around 5,000 staff and their well known black and white trucks are reported to supply a third of the country's fresh milk every day. Earlier this year, the company were acquired by Muller, the well known German dairy company.
Carigiet Cowen have also secured home delivery courier Hermes, who are opening a new depot on Kingstown. The 16,000 sq ft unit will form part of the company's growing national distribution network. The company have been searching for a Carlisle site for some time. Hermes is the UK's largest home delivery courier net work, reportedly handling more than 140 million collections and deliveries per annum.
Mr Smith continues, "Both transactions demonstrate Carlisle's continued importance as a distribution centre, investment from such high profile companies shows confidence in the local economy."
Elsewhere on the Kingstown Estate, Carigiet Cowen's agency team sublet the former Telford Car showroom premises on Kingstown Broadway earlier this year to the Hayley Group. Trading as Hayley Cumbria they are one of the UK's leading suppliers of Engineering Essentials.
A sale of the adjacent property extending to some 8,700 sqft or so on behalf of global vending supply company Autobar has also been recently concluded. And, in what is turning into a busy Autumn an Agreement to Lease has been completed in respect of the former Cumbria Truck Centre premises on Leabank Road to leading national trade counter operator Howdens Joinery Co. This will be their second branch in Carlisle which subject to Baroad approval they hope to have open by Christmas. Montagu Evans acted on behalf of Howden Joinery.

Richard Percival who dealt with these three transactions is encouraged by the level of activity taking place across Carlisle and the wider county. " It's easy to focus on the negatives at present and whilst the commercial property market like the economy itself still remains quite flat we are seeing investment being made in the area by both local and national companies which has to be viewed as positive"

One such investment is the purchase by client's of Carigiet Cowen, M-Sport Ltd, of the Lakeland Business Park in Cockermouth from Norwepp (General Partner) Ltd. The acquisition completed in mid August and Carigiet Cowen has been appointed as both Managing Agents and Letting Agents on behalf of Malcolm Wilson's Dovenby Hall Estate based company.
On the purchase Malcolm Wilson comments " I was originally alerted to the availability of Lakeland Business Park by Richard Percival of Carigiet Cowen back in May 2009 and we have tracked it for some time. As a locally based investor I am delighted to have added this development to my portfolio and I look forward to establishing an excellent working relationship with the existing occupiers at the Business Park as well as welcoming new companies and individuals in due course. I feel strongly that Cockermouth is a first class location to do business from and I think our purchase of Lakeland Business Park along with our continued investment in M-Sport's core business at Dovenby Hall demonstrates this commitment"
Lakeland Business Park comprises some 35,000 sq ft of modern office accommodation, with good car parking provision on the outskirts of Cockermouth town centre, close to the A66. There are a number of office suites ranging from 200 sq ft to in excess of 3,000 sqft which are immediately available To Let on flexible terms.
For further information of what's available at both Lakeland Business Park and Dovenby Hall Estate, contact Richard Percival or Ben Blain @ Carigiet Cowen

Dewsbury Ltd who own Units 1 and 2 Crown Street in Carlisle have appointed Carigiet Cowen to manage their retail showroom property, taking over the instruction from Eddisons in Leeds. Carigiet Cowen also has the sole agency instruction for the vacant retail showroom formerly occupied by Reid Furniture which Margaret Bushnell is dealing with. This property adds to the portfolio of managed property held by Carigiet Cowen in Carlisle which already includes the Carlyle's Court Shopping Centre, the Earls Lane Shopping Centre, the Castle Court development, the London Road Retail Park and Denton Holme Trade Centre.

If you require any assistance with commercial property management issues or are looking for specialist Business Rates advice please contact Iain Henderson on 01228 635005.