THE CHANGING FACE OF RETAIL IN CARLISLE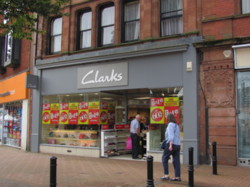 Carigiet Cowen are delighted to be bringing to the market the Clarks unit (12 English Street) occupying a prime retail location adjacent to the recently refurbished Top Shop in Carlisle city centre.

Laurence Jones, on behalf of landlords Picton Property Income Ltd, said:

"We are obviously disappointed Clarks have decided to exit the estate, particularly given our recent lease renewal successes with other national retailers, such as Arcadia and Specsavers. We are however close to agreeing terms on one of the vacant units (6 English Street) and are encouraged by the interest we have had to date in the Clarks unit, which will become vacant in November 2012".

There are currently two vacant units in the Crow and Mitre block ranging between 926 sq ft and 2361 sq ft. All enquiries should be made via (joint agents) Carigiet Cowen and Green & Partners.

Elsewhere, Carigiet Cowen acted for the owners of Chapmans Furniture Store on Victoria Viaduct and are delighted they have been able to secure such a quality tenant to occupy this prestige landmark building in a relatively short period of time in the current market. It is anticipated that Dickinsons will be opening the doors to this new venture early autumn, following the landlord completing a range of external and decorative works to the property.