Flood-hit Cumbrian architects make temporary office move permanent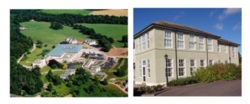 A firm of Cockermouth architects which helped many businesses move back into their flood-hit properties is permanently relocating.
Green Design Group was one of the first businesses on the town's Main Street to reopen after last November's floods.
But following health and safety issues on surrounding properties, Green Design Group was forced to temporarily relocate to the Dovenby Hall Estate.
And one year on, that move has now become permanent.
A number of factors – including positive feedback from clients – has led to the move.
Tony Green, company director for GDG said: "This decision was not made lightly as we thoroughly enjoyed our Main Street office and being part of the local community.
"We did not expect our temporary office space at Dovenby Hall to become our new base but a number of benefits out weighed a return to Cockermouth Main Street."
Mr Green said that the new office space provides all staff with an "abundance" of natural daylight, creating an improved working environment. He also praised its disabled access facilities, parking area and space for future staff expansion.
GDG is currently working on social housing projects with Derwent and Solway Housing Association and recently completed a feasibility study for Cockermouth School for a Science Skills Laboratory and Planetarium adjacent to the Eco Centre.
Richard Percival of Carigiet Cowen negotiated both deals on behalf of landlord Malcolm Wilson's M-Sport Ltd. There is a range of existing high quality office suites immediately available at the Dovenby Hall Estate in a variety of sizes from 330 sq ft up to in excess of 5,000 sq ft.